Hire a locally based Jazz Band with professional musicians for your wedding cocktail, Champagne party or wedding ceremony in Luberon (Provence South of France). Our band, Orange Trio Music (Presentation here) recommends the Jazz Cocktail Band.
Jazz cocktail Band usually performs around the following towns in the Luberon region: Bonnieux, Ménerbes, Goult, Pertuis, Apt, LaTour d'Aigues, Manosque and will set the mood for your wedding in Luberon.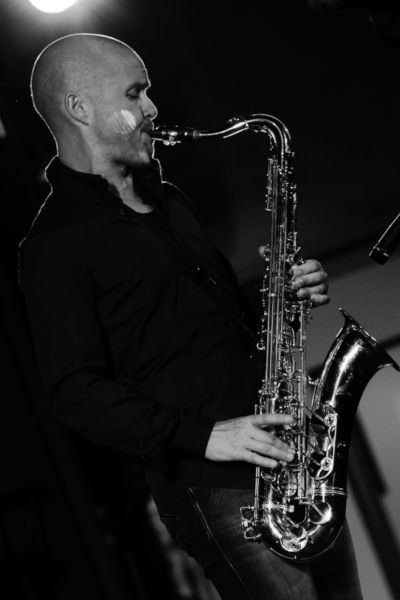 Jazz cocktail Band, configurations tailored to the needs of your event.
Jazz is a very large musical form with many styles and sub-styles. We can distinguish several periods for this style of music . The 1920s Jazz, rather old school and retro; new Orleans with banjo and washboard. Mainstream Jazz Style from 1940-1960 (Charlie Parker to John Coltrane), Jazz Soul or Jazz Rock style and Bossa-Nova Brazil style.
The Jazz cocktail band, based in Avignon (Vaucluse), can vary in size from a two-piece band to a trio, quartet or even a quintet with the singer for a wedding reception, drinks or private event.
Duo Jazz - Jazz cocktail - Mariages et Événements
The duo with guitarist and Saxophonist, the smallest configuration, ideal for a cocktail, a reception or a small private event, Repertoire: Jazz standards and Bossa-Nova, musicians can also play Bajo and Sax Soprano New Orleans Style.
The Trio with Double bass, our most usual configuration for a wedding reception or a private party in Luberon; Repertoire consists of Jazz Swing and Bossa, Mainstream
The Quartet with drummer for a lively event
Configurations with singer, duo and singer, trio and singer or quartet with singer.
New Orleans Jazz Band for your Weddding in Luberon
The Jazz Cocktail band also plays this Jazz Style during wedding receptions.
If you want to engage a festive Jazz band in the Luberon (Provence Vaucluse), musicians propose to intervene with our different Jazz New Orleans formulas. We can play with different numbers, always depending on the size of the event organized. From the soprano saxophone banjo duet to the quartet with double bass and Washboard, our band will adapt perfectly to the situation. The New Orleans Jazz Style is very popular because the musicians can move among the guests.
A medley (four pieces) with photos in a slide show of the band.
Wedding Jazz Band - South of France - Jazz cocktail
Ceremony musicians in Luberon
If you are looking for musicians for your wedding ceremony in Luberon, our band can also intervene. We are for the most part first of all classical musicians. This allows us to easily interpret, not only the Jazz Standards but also the greatest pieces of classical music. They will be able to advise you and help you make the best choice for their instruments. More details on their ceremony page here.
Contact Jazz cocktail Band
To contact the band, fill out the form on their contact page here. Contact Jazz Cocktail