Hire a local music band in the south of France for your corporate event.
You organize a business evening in the south of France more particularly on the french Riviera and you are looking for a local band, a musical entertainment with professional musicians. The Orange Trio Music Band (Presentation here) offers you, with its singer, its services by bringing you the original and classy musical touch that will allow you to really highlight your event.
The music band for your corporate Event
To animate your corporate event in the south of France and French Riviera, our band offers several repertoires and several configurations. Our goal is not to bring you a "Ball" type of service as there are so many in the Paca region.
We propose you to stand out by engaging musicians and a singer bringing their musical universe. The repertoire will be varied from the point of view of the different musical Styles (Jazz Pop Soul Folk and Reggae) but also the effective side and number of musicians.
We can propose a simple duet in small formation with singer and guitarist, a trio with bassist a quartet with our drummer or even invite saxophonist for a dance party for example. In any case, the musicians will be able to adapt the volume and their repertoire in order to really stick to the expected atmosphere.
Our different musical proposals
Singer Guitarist Duo
On the occasion of a cocktail, a small reception or even a meal between collaborators, for a seminar or an Afterwork session in the South of France, our two-piece musicians with guitarist and singer will certainly be a wise choice.
We offer a semi-acoustic repertoire perfectly adapted to an intimate or convivial atmosphere. With a repertoire of Jazz Standards and Bossa Nova but also arranged Pop Soul hits, you are certain to delight the guests and create an atmosphere conducive to discussions.
The more i see you - Reprise/Cover Jazz Bossa (Chanteuse et Guitariste)
Trio with bassist

For a larger reception or a business event in the South of France with many employees, we recommend you to add a musician to the duet. Our bassist also plays Small percussions (Shaker, Cajon) in this configuration, which will drive the rhythm section of the duet.
Four musicians for your corporate event in south of France, The Gala Dinner
If you are organizing a Gala dinner or an important event evening in the South of France we will certainly invite a fourth musician in the person of our drummer. This configuration will allow us to make your guests dance if necessary.
The repertoire will be for this type of occasion composed of Pop Rock and Soul standards. We can, of course, begin the evening with a quiet and posed repertoire and then go on with dance pieces.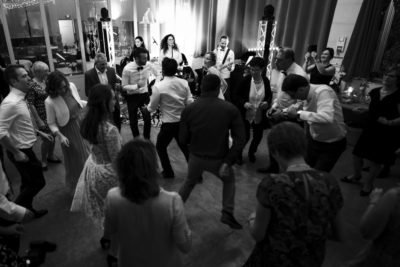 Our performances in south of France
We often perform in the South of France Provence, PACA and French Riviera for corporate parties and private parties. Many companies trust us: La Poste, Rolex, Kpmg. We played for a number of cocktails and receptions.
We perform around the following cities:
Languedoc: Montpellier, Béziers, Séte and Nimes; Gard departement
PACA: Avignon, Aix en Provence, Marseille, Toulon
Cote d'Azur: St Tropez, Cannes, Nice, Monaco and Antibes
Contact us
We, of course, propose to help you to establish the musical configuration of your evening. So, do not hesitate to give us all the useful details: the number of participants, place (inside / outside), schedules and of course, the date.
See you soon for your musical event in the south of France.